Posted in
cheerleaders + schoolgirls
,
uniforms + costumes
on January 31st, 2011 by freakyd
Ohh… now here is one sweet sexy thing. Yum! I have no idea why, cheerleaders have always been hot. You see one and you think, "hell, yes!" Seeing them in the uniforms and skirts just makes you want to jump on and ride.
I think because this one knows she's a tease that she should get a spanking too!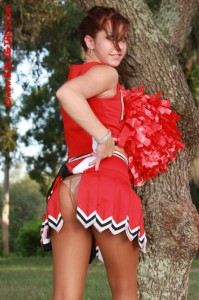 see the full set at zoligirls