Posted in
alt babes
,
bdsm + fetish
,
gratuitous smut
,
splosh + wam
on June 13th, 2011 by freakyd
Yea, so this is one of my favorite photo sets from one of my favorite models. It's just so perverse. You look at it and think did she really just do that, and the answer is fuck YES! It's fun, it's kinky, it's a little off the wall. It's Toxxxy, i'm not sure what else you'd expect.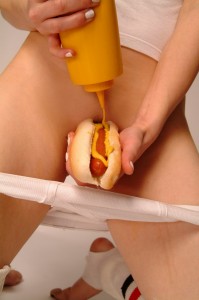 It seemed like a good post for the beginning of summer; plus it's full of kink, innuendo, and a sex girl getting all wet and messy. It covers all the fetish bases in one photo set. Now if I can just get a kinky girl to get naked at my next bbq and cover herself and my hot dog with ketchup and mustard I'll be all set.
and yes, here is the link to the rest of the photo set