Posted in
alt babes
,
gratuitous smut
,
splosh + wam
on December 6th, 2012 by freakyd
Ok, so here I am keep both my recent promises. 1. I'd get back to the porn posting right away. 2. That we'd feature a bunch of messy and splosh photos for a bit.
Without further ado Chelsea makes a mess while eating an ice cream cone.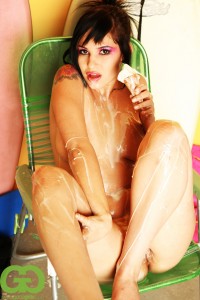 The photos are from Gods Girls, who specialize in alt porn.  The site also has blogs run by the girls as well. So if you like chicks with lots of attitude and tattoos stop by and check it out. The site also has a kind of raw pro-am feel to it, which is cool if you're into it. It also lends itself to creating more weird shit, like girls covering themselves in ice cream, see above.