Posted in
bdsm + fetish
,
general mayhem
,
gratuitous smut
on March 28th, 2016 by freakyd
The writing says it all. "Cum dump, anal slut".
That's right baby, suck it. Before I fill your ass I want to see you swallow that hole dildo. Get your nose to the wall and lick those rubber balls while you choke on that dildo.
Well, I see you've got an extra dildo laying around. Now what can we do with that? Someone has some other holes that can get warmed up.  Pussy, or ass? Where to go first? That is the only question; as all your holes will get used, and used hard. That is to say they will get used to my full satisfaction. Don't worry, I'll make sure to cum in your ass. When I get going, I can go several time. Your ass will get good and cream filled.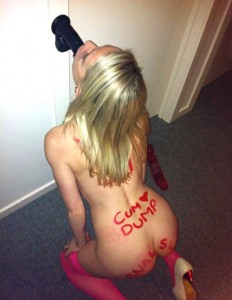 ….where can I get me one?